If you love the winter season, then you know that there are many winter hobbies to enjoy during this time of year that does not include sitting in front of the tv. Instead, there are multiple things to do to get out and move your body, reducing cabin fever while increasing your fitness levels while enjoying the colder weather. There is nothing quite like winter recreation activities to get you up and to move.
There's Nothing Quite Like Winter Hobbies
Being outside during winter weather benefits us physically, mentally and emotionally. The researchers at the University of Essex state, being physically active in natural light can boost our mood and overall well-being. There is a meditative quality to seeing the snowfall that can be very calming, and the scent of evergreens has been shown to have a relaxing effect. Being in nature can also help reduce stress levels, lower blood pressure and improve sleep quality.
There are many different activities that can be enjoyed during the winter. Here are just a few ideas to get you started on finding the perfect winter leisure hobby for you:
Ice Skating
This classic winter hobby is perfect for people of all ages. According to Statista, approximately 9 million people in the U.S. enjoy skating at some point during the year. Public ice skating rinks exist outdoors and indoors, or you can even skate on a frozen lake or pond if you're feeling adventurous.
Ice skating is an enjoyable activity you can do in cold weather, and many parks also have public fireplaces or firepits where you can take breaks to warm up. Thousands of beginners learn how to skate and have some laughs with family and friends while also enjoying the winter scenery.
Snowboarding or Downhill skiing
There is no question that snowboarding and downhill skiing are two of the most popular winter hobbies. You can't beat the adrenaline rush, the sense of freedom and exploration, and the fantastic views.
Snowboarding requires more practice than downhill skiing at first, but once you have a basic understanding of how to turn, jump and stop on a hillside, it becomes far less intimidating. Of course, downhill skiing also has challenges, but both activities offer incredible personal growth and adventure opportunities. 
Many ski resorts offer lessons if snowboarding or downhill skiing is new to you. Once you've mastered the basics, you'll be able to enjoy these winter sports to the fullest.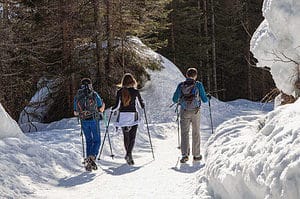 Cross-Country Skiing
When you are looking for a winter hobby that will get your blood pumping, cross-country skiing is an option. It provides physical exercise and entertainment and can also be a great way to improve your coordination and stamina.
Going cross-country skiing is the best way to see the backcountry and be amongst nature. Alternatively, many public and national parks will allow you to go cross-country skiing. 
Nordic Walking
Nordic walking involves walking with poles that all ages and fitness levels can enjoy. Nordic walking is a low-impact winter hobby and a great exercise, which means it is easier on your body than activities like running or jogging.
If Nordic walking is a new leisure activity for you, start by using the poles for balance and support. Then, as you become more familiar, you can begin to use them to push off with each step. The tips of the poles can be changed out to winter grips or tips for snow, making it a great year-round activity.
Snowshoeing
The ancient method of travel, snowshoeing, has recently gained popularity as a winter hobby and is a great way to exercise while enjoying the winter scenery.
If you're new to snowshoeing, you may want to sign up for a class to learn how to snowshoe or look online for tutorials on snowshoes and the art of snowshoeing. Wear warm, waterproof clothing and boots and be sure to choose a route that matches your skill level. An easy trail will help you get used to the equipment and prevent you from getting too tired, as snowshoeing can be strenuous, and you'll need to stay hydrated and fueled up.
Snowmobiling
Snowmobiling is a popular winter leisure activity, as you can get from point A to point B quickly. It is an ideal way to experience the outdoors while enjoying some adrenaline-pumping action while exploring remote areas and seeing sights you would never be able to see on foot. A snowmobile is a relatively easy machine to operate, but for safety, be sure to take a lesson to learn about the machine and stay safe on the trails.
Ice Fishing
Ice fishing is worth checking out if you're looking for a challenging and fun outdoor activity. Depending on the time of year, ice fishing can be as simple as walking out to a frozen lake or stream early in the morning and casting your line into the water. Alternatively, you may want to try something more adventurous, like catching a giant fish from a floating platform. If yes, you can set up a portable shelter on the ice, drill or use your chisels to create a hole, and drop your line for fun. Be sure to dress warmly and check the thickness of the ice before heading out on it.
Simple Ways To Have Some Fun This Winter
Simple leisure activities do not cost much money, and they don't need much planning, making them ideal recreation activities for all. The best way to overcome the winter blues is to get out and enjoy the winter weather by participating in some old favourites where you can also express your creativity.
Sledding
Sledding, a childhood favourite of many Canadians, is one of the best ways to enjoy the winter weather and get some exercise. You can find sledding hills at most parks or playgrounds. If you don't have a sled or toboggan, you can use a garbage bag or cardboard box in a pinch.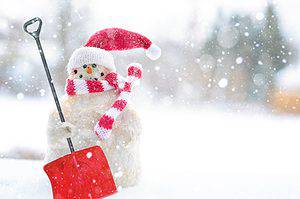 Build a Snowman
Ah, the tradition of building a snowman. This classic activity is enjoyed by people of all ages and is a great way to get outside and have fun creating a snow sculpture. All you need is some snow, carrots for the nose, and rocks or coal for the eyes and mouth.
Build a fort
Building a fort is a great winter activity on a sunny afternoon. With some snow and imagination, you can let your creative juices flow. Once you've built your fort, you can have snowball fights from the inside or use it as a base for other winter activities, such as making snow angels.
Attend winter festivals
The best winter festivals to attend will depend on your interests, but many offer opportunities to experience the arts, enjoy delicious food and drink, listen to live music or entertainment, and more. For example, the Rockefeller Center Winterfest is one of New York City's most popular winter events, and it features live music, arts & crafts, food vendors, and more. It takes place at Rockefeller Center from December 12th to January 2nd each year.
What to Expect in a Winter Wonderland
When the temperature begins to dip, and the snow starts to fall, it's time to start thinking about winter activities. Whether you love skiing, snowboarding, or simply playing in the snow, there are plenty of ways to enjoy the winter weather. Safety and planning are the keys to enjoying the winter, so be prepared for these things when venturing into a winter wonderland:
Snowy conditions – Playing in the snow and checking to see that every snowflake is unique with its pattern is intriguing, but before you head out, check the forecast. Watching the falling snowflakes can be romantic and calming, but snowy conditions can make driving and hiking difficult, so it's essential to be prepared with the proper gear and clothing. For your safety, let someone know when and where you are going and when you will be back.
Icy conditions – Another thing to be aware of in winter is the danger of ice. Ice can make sidewalks and roads slippery, so be sure to have warm footwear and take extra caution when walking or driving. A walking stick may help you navigate icy patches more confidently.
Cold temperatures – Of course, the cold weather is one of the most defining aspects of the winter months. Temperatures often dip below freezing, so dress warmly in layers to stay comfortable, and don't forget to protect your skin from the cold with a hat, scarf, and gloves. If you plan on being outdoors for extended periods, pack a thermos of hot coffee, tea or hot chocolate to keep warm.
Final Thoughts
There are plenty of great wintertime leisure hobbies and activities to enjoy, whether you love the snow or not. The key is to find what you want and prepare for the conditions. With some planning and warm clothing, you can get out there, move your body, and have a great time in the winter weather.